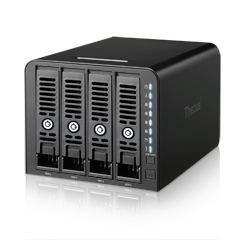 N4350
The Smart Home NAS to Connect and Secure Your Life
Features
Multiple RAID
When it comes to data management, Thecus NAS truly let you have it your way. Create multiple RAID volumes each supporting different RAID modes including RAID 0, 1, 5, 6, 10 and JBOD for your own balance of performance and data protection. Should a hard drive malfunction occur, changing one is simple thanks to online RAID migration and expansion, hot spare, and auto rebuild.

DDNS
Have easy access to your NAS via Dynamic DNS (DDNS), this allows users to allocate and access their NAS files via the internet remotely. Since IP digits are often difficult to remember, domain names are utilized to make NAS management much more convenient. When the IP address is changed, the DDNS server will automatically adjust the IP address to make sure that remote access is always available. In short, DDNS provides convenient remote internet access to your Thecus® N4350 by utilizing domain names instead of IP digits.

Cloud Backup
The private and public clouds meet with Thecus' new DropBox, Amazon S3 and ElephantDrive cloud backup functionality! Guard your data with RAID at home and an additional level of protection in the Cloud. Just drag and drop files into the folder on your NAS and access them on any computer or mobile device with DropBox, Amazon S3 or ElephantDrive.

USB 3.0 Connectivity
The next generation of connectivity is here with speeds 10x faster than USB 2.0. Whether connecting digital cameras and smart phones, backing up large external hard drives, or extending the capacity of your NAS, USB 3.0 will make sure it's done in no time at up to 5 Gbit/s. Backwards compatibility adds the connectivity of a world full of USB 2.0 and USB 1.1 devices to get the best combination of speed and universal access.

Multiple File Systems
Support for multiple file systems including , EXT4 and XFS, gives Thecus NAS flexibility to handle many different types of environments. Users can simultaneously use different file systems across multiple RAID volumes to get the best of each one.


iSCSI Thin-Provisioning
Get the most out of your storage space with the extreme speed of iSCSI and the efficiency of iSCSI thin provisioning. Connect through iSCSI for the fastest data transfer speeds available and make wasted disk space a thing of the past with thin provisioning's flexible storage functionality.

User Quota
Divide the massive storage of a Thecus NAS among multiple users. Whether there are two users or 100, User Quota make it easy to divvy up and manage disk space.

Overview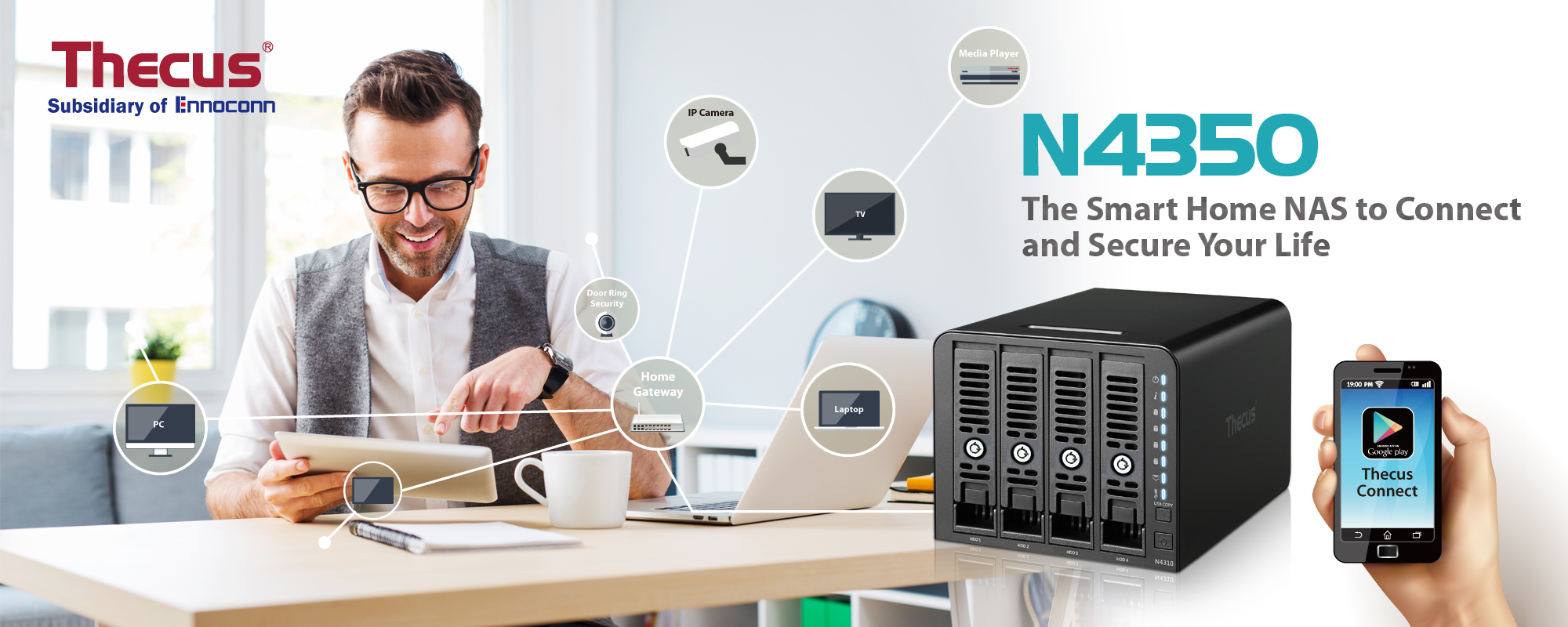 04/20/2017 - Thecus ® Technology Corp today announced the N4350, an upgraded version of the N4310. This affordable 4-bay NAS is stacked with features that provide a practical solution for SOHO and SMB users. Delivering connectivity with uncompromising data integrity, the N4350 distinguishes itself with its energy efficiency at a highly attractive price.

"As the demand for storage continues to grow, small office and home users are seeking the best price/performance solution for their investment," said Florence Shih, General Manager at Thecus Technology Corp. "With the introduction of N4350, it pushes the NAS market to a new level, this versatile NAS delivers tremendous value plus the functionality to reach the full spectrum of the SOHO user needs."

Under the Hood

The Thecus N4350 is embedded with a dual core Marvell Armada 388 1.8 GHz CPU, and equipped with 1GB of DDR4 RAM. It includes one Gigabit Ethernet LAN and two USB 3.0 ports. The N4350's low power consumption guarantees that its day-to-day running costs are near negligible.

ThecusOS 7.0

The N4350 operates on the Thecus OS7, which leverages a web-based, straightforward multi-window interface. This intuitive and feature-rich OS allows for significant advancements in productivity, flexibility, and performance. Key features include Photo Center, File Center, and Thecus App Center, which offers an extensive variety of apps for modern digital lifestyles.

Data Security

The Thecus N4350 offers complete data backup and protection capabilities: Thin provisioning, replication for disaster recovery, Remote Backup or disaster recovery (for real-time remote or local backup) as well as backup to Amazon S3 cloud service.
 
Mobile Access

The N4350 provides connectivity with three mobile apps. Thecus Connect™ allows users to gain live access to their NAS unit, enabling them to monitor the most up-to-date information. Thecus Wizard™ allows quick set up a NAS remotely. Orbweb.me™ is a P2P module that allows users to easily view, stream and manage files in their NAS anytime and anywhere. No IP address is required.

The N4350 has a revamped processor compared to its predecessor, with double the processing cores and higher frequency. Next generation DDR4 RAM, and runs on the latest ThecusOS 7 software. The N4350's elevated hardware and performance guarantees it has one of the best price to performance ratios on the market, with the price tag being under 300 USD/EURO.
 

Specs
1. Hardware Platform
Item
Spec
Processor
Marvell Armada 388 Dual Core up to 1.8GHz
System Memory
1GB DDR4 on board
Flash Memory
512MB NAND Flash
LAN Interface
RJ-45x1 : 100/1000 BASE-TX Auto MDI/MDI-X
WOL supported
USB Interface
USB 3.0 port x2 (Rear)
LED Indicator
1. Power, system busy (Blue) Solid on till SW involved, after SW involved led blink to indicate power on process. State change to solid on while system ready.
2. HDD1-2 Activity/Fail(Blink Blue/Orange)
3. LAN (Link : Solid blue; Activity : Blink blue)
4. USB (Installed: solid on, copy LED: Blink blue, copy failed: orange)
5. System status (i): For system diagnostic use. (blue: blink while diagnostic mode kick-in, solid on while diagnostic completed, if error occurred, USB led with orange led on)
Disk Interface
4 x SATA for internal, support SATA II / SATA III hard disk
HDD staggered
Supported
Power Supply
60W external power adaptor
System Clock
Battery-backed up system clock
Buttons
Power button
USB copy button
Reset button (Reset to factory default)
Environment
Temperature: 5°C to 40°C
Humidity: 0 ~ 80 % R.H. (Non-condensing)
Chassis
4bays Tower
Dimensions (HxWxD)
135 x 170 x 217 (mm)/ 5.33 x 6.69 x 8.54(in)
Noise
Under 20dB
Certificates
CE/FCC/C-Tick/VCCI/BSMI
RoHS
WEEE
Reliability test
Power Consumption test
Noise dB test
Temp 0~40°C test
2. Software Functions
RAID
RAID Modes
RAID 0, 1, 5, 6, 10 and JBOD (Support multiple RAID volumes, each volume support up to 16TB)
Auto-rebuild
Supported
Hot-swap
Supported
Hot Spare
Supported
Online RAID Expansion
Supported
Disk
Power Management
Available spin-down on idle setting
Bad Block Scanning
Supported
SMART Info
Supported
SMART Test
Supported
Disk Roaming
Supports volume-based roaming to other Thecus NAS (Require ThecusOS 7 )
Disk Wipe and Clone
Supported
Secure Disk
Supported
Network
Configuration
Fixed IP address, dynamic IP address
Transport Protocols
TCP/IP/AppleTalk
File Protocols
SMB/CIFS, HTTP/HTTPS, FTP, NFS v4, AFP
TCP/IP
IPV6 & IPV4
DDNS
Supported
SSH
Supported
UPnP
Supported
UPnP Port forwarding
Supported
Bonjour
Supported
VPN Server
Supported
vLan
Supported
System status
System Monitor
Monitoring CPU, memory, Temperature, fan, network utilization and protocols access user count
Syslog Management
Send syslog to assigned location
Act as syslog server to receive log info from other systems
Data Access
Client OS Support
Windows XP and after
Windows Server 2003 and after
UNIX/Linux
Mac OS X
FTP
Built-in FTP server with bandwidth control
Secure FTP
Built-in secure FTP server with bandwidth control
TFTP
Users can download and upload files with TFTP programs
Download Manager
BT download (via Transmission module)
WebDAV/WebDAV SSL
Supported
Printer Server (IPP)
Supports USB printers
Supports a wide range of IPP printers
Client can manage print tasks (list/delete) via web user interface
Data Backup
Mac OS X Time Machine
Supported
Local folder/iSCSI Backup
Supported
Remote folder/iSCSI Backup
Supported
System Failover
Supported
Block Level Access
iSCSI Target/Initiator
Supports Microsoft/Mac OS X/Linux initiators and Thecus NAS targets
iSCSI Thin Provisioning
Supported
Power Management
Scheduled Power On/Off
Supported
Volume Management
Multiple RAID
Supported
Multiple File System Selectable
EXT4/XFS
Multimedia Support
iTunes Server
Supports AAC, MP3 w/ID3 tag and WAV
User Authentication
Local User
Supports built-in user accounts
Local Group
Supports built-in user groups
Windows ADS
Supported
LDAP
Supported
Access Guard
Supports Black & White list / IP Filter
User Profile
Photo Center
Supported
File Center
Supported
APP Center
Supported
Surveillance Center
Supported
Cloud Backup
Amazon S3
Supported
File System
Type
Journaling File System
Language Support
Unicode Support
Authorization (ACL)
"Read", "write", or "deny" privileges to individual users or groups in folders and sub-folders
User Quota
Supported (exclude Btrfs)
Administration
User Interface
Web-based user interface supports English, Traditional Chinese, Simplfied Chinese, Japanese, French, German, Italian, Spanish, Russian.
Utility Program
MS Windows Setup Wizard
Supports Windows XP and after
Mac OS X Setup Wizard
Email Notifications
Sends system messages via email to the system administrator
SNMP Trap
System information trap out
Mobile Applications (iOS/Android)
Thecus Connect™ (Android)
Provides live up-to-date information of your NAS
Thecus Wizard™
Offers fast NAS Setup via your phone
T-OnTheGo™
Upload, download and stream multimedia
Orbweb.me
Uploading, downloading, streaming multimedia and webcam via P2P connection
Others
Recycle Bin
Supported
ISO Mount
Supported
Package Contents
Ethernet Cable
Power Adaptor
Universal CD
QIG
Warranty Card
HDD Compatibility List Card