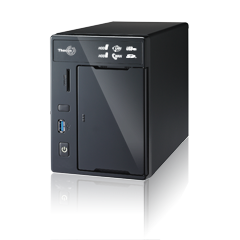 Features
Data Guard
Data Guard backup solution is the ultimate software as it provides both local and remote parts. Currently, data is backed up across RAID volumes, external USB drives, and eSATA. In addition, Data Guard uses innovative technology to sync data across the network to other NAS and servers. More importantly, Thecus® Data Guard is the total backup solution which makes managing NAS user-friendly and convenient.

Data Burn
NAS data can now be burned directly to CD, DVD, and Blu-ray discs with Data Burn, this hassle-free module makes burning data to a disk effortless. In addition, burning ISO image file is also supported. Whether you're managing audio, media or essential files; Data Burn copies information fast while significantly reducing waiting time. The process of burning file to disk is now easy and smooth with Data Burn module.

Cloud Backup
The private and public clouds meet with Thecus' new DropBox, Amazon S3 and ElephantDrive cloud backup functionality! Guard your data with RAID at home and an additional level of protection in the Cloud. Just drag and drop files into the folder on your NAS and access them on any computer or mobile device with DropBox, Amazon S3 or ElephantDrive.

HDMI Output
Make your NAS into the ultimate multimedia hub! The N2800's HDMI output allows you to connect your NAS directly to your TV for device management, web browsing with Flash support, and even HD video playback. Don't force yourself to watch movies on that tiny little computer screen anymore, take it to the living room!

SD/SDHC/MMC Card Reader
Simplify your access to digital cameras, smart phones, electronic dictionaries, and much more. The N2800 supports SD/SDHC/MMC card readers for easy access to multimedia data.


USB 3.0 Connectivity
The next generation of connectivity is here with speeds 10x faster than USB 2.0. Whether connecting digital cameras and smart phones, backing up large external hard drives, or extending the capacity of your NAS, USB 3.0 will make sure it's done in no time at up to 5 Gbit/s. Backwards compatibility adds the connectivity of a world full of USB 2.0 and USB 1.1 devices to get the best combination of speed and universal access.

Acronis True Image
Thecus brings the best to the table with Acronis's advanced backup software. Back up all your data with One-click Protection or pick and choose only your most important files. Acronis sports a slick interface, user-friendly design, and comprehensive features to keep your data safe.

Multiple File Systems
Support for multiple file systems including EXT3, EXT4, Btrfs and XFS, gives Thecus NAS flexibility to handle many different types of environments.




iSCSI Thin-Provisioning
Get the most out of your storage space with the extreme speed of iSCSI and the efficiency of iSCSI thin provisioning. Connect through iSCSI for the fastest data transfer speeds available and make wasted disk space a thing of the past with thin provisioning's flexible storage functionality.

iOS/Android Connectivity
In the modern world, nothing is as important as reaching your data from anywhere. With T-OnTheGo and the T- Dashboard, you can manage your NAS, and upload to and download/stream from your NAS using an iOS or Android device on the go.

Rsync
Backing up your data is very necessary, and everyone has specific needs when it comes to storage. Thecus's Rsync functionality gives users great flexibility with remote backup capability, a flexible scheduler, and the stability of Linux-based transfer.

User Quotas
Divide the massive storage of a Thecus NAS among multiple users. Whether there are two users or 100, user quotas make it easy to divvy up and manage disk space.

Overview
The N2800 is the successor of the N2200XXX. Keeping the SD card reader and elegant LED design, the N2800 has been tweaked after user's demands.
The N2800 will be one of the first Intel® Atom™ D2.13GHz based NAS! Multimedia-oriented, powerful, silent and well-designed: this NAS is very versatile. Connect it to the TV of the living room to play HD content and/or use it as a backup center for a couple of computers in your small office, possibilities are endless!
USB 3.0: from optional to mandatory
Thecus was the first to launch NAS compatible with USB 3.0 for early adopters. Now that the technology has matured and more USB 3.0 devices exist on the market, it was time to embed it by default! The N2800 has one USB 3.0 port, which are at least 10 times faster than USB 2.0.
3rd generation Intel® Atom™ CPU: silent power
New Intel® Atom™ CPUs are designed to work without fans. This will dramatically reduce noise and power consumption of the NAS.
Associated with large amounts of DDR3, the new Atom™ will provide much better performance. Reaching the limits of Gigabit bandwidth on a "small NAS" is already a standard in the industry, thanks to the N2200XXX, but what if (and you will) want your NAS to give you more? Multi-user environment, web hosting, intense backup, data encryption, application serving, heavy RAID computations, and HD multimedia streaming: welcome to the world of smooth multi-tasking!
HDMI output: removing the middle man
After installing the proper module, just plug a screen on HDMI output, a mouse and keyboard on USB ports and here we go, you don't even need computer anymore to check on your NAS! You can for instance directly watch videos or browse the Internet from your NAS to your monitor. (*will be available with a FW update by end of June.)
Ideal for small installations and/or mobile users, this feature is designed to lower the total cost of ownership of your network architecture.
A glimpse at the new specifications
- Intel® Atom™ 3rd Generation @2.13GHz
- 2GB of DDR3
- USB 3.0 port
- HDMI output
- SD/SDHC/MMC card reader
Specs
1. Hardware Platform
Item
Spec
Processor
Intel® Atom™ Processor (2.13GHz, Dual-Core)
System Memory
2GB DDR3
Memory expandable up to
4GB Memory Compatibility List
LAN Interface
RJ-45x2: 10/100/1000 BASE-TX Auto MDI/MDI-X
WOL supported
USB Interface
USB 2.0 host port x2 (back x2)
USB 3.0 host port x1 (front x1)
SATA DOM
1GB
HDMI Output
HDMI port (back x1)
VGA Output
VGA port (back x1)
Disk Interface
2 x SATA for internal, support SATA II / SATA III hard disk
1 x eSATA for external
Power Supply
External power adapter
PCI-e x1 Slot
1 (1 lane)
Thermal/Fan control
Thermal sensor on processor temperature
System FAN speed controlled by temperature
System Clock
Battery-backed up system clock
Power Management
Auto power on after shutdown due to power loss
Card Reader
Support SD/SDHC/MMC
Buzzer
Adjustable frequency alarm
Buttons
Power button
USB copy button
Environment
Temperature: 5°C to 40°C
Humidity: 0 ~ 80 % R.H. (Non-condensing)
Chassis
Tower Metal Chassis
Dimensions (HxWxD)
163.8 x 115.4 x 217.6 (mm)
Weight
2.88(Kgs)/6.35(lb)(NAS only)
Certificates
CE/FCC/C-Tick/VCCI/BSMI
RoHS
WEEE
VMware, Citrix
2. Software Functions
RAID
RAID Modes
RAID 0, 1 and JBOD
Auto-rebuild
Supported
Hot-swap
Supported
RAID Volume Encryption
AES256bit
Disk
Power Management
Available spin-down on idle setting
Bad Block Scanning
Supported
SMART Info
Supported
SMART Test
Supported
Disk Roaming
Supports volume-based roaming to other Thecus NAS
Network
Configuration
Fixed IP address, dynamic IP address
Transport Protocols
TCP/IP/AppleTalk
File Protocols
SMB/CIFS, HTTP/HTTPS, FTP, NFS v4, AFP
Link Aggregation
Load balance, Failover, 802.3ad, Balance-XOR, Balance-TLB, Balance-ALB
TCP/IP
IPV6 & IPV4
DDNS
Supported
SSH
Supported
UPnP
Supported
UPnP Port forwarding
Supported
System status
System Monitor
Monitoring CPU, memory, temperature, fan, network utilization and protocols access user count
Syslog Management
Send syslog to assigned location
Act as syslog server to receive log info from other systems
Data Access
Client OS Support
Windows 8/7/Vista/2003/XP/2000
UNIX/Linux
Mac OS X
FTP
Built-in FTP server with bandwidth control
Secure FTP
Built-in secure FTP server with bandwidth control
TFTP
Users can download and upload files with TFTP programs
Download Manager
BT download (via Transmission module)
NZB download (via NZB module)
Printer Server (IPP)
Supports USB printers
Supports a wide range of IPP printers
Client can manage print tasks (list/delete) via web user interface
Data Backup
Client Incremental Data Backup
Acronis True Image (OEM version)
Client System Disaster Recovery
Acronis True Image (OEM version)
Client Side Backup Software
Thecus Backup Utility (Windows/Mac OS X)
Data Burn
Create files to ISO image and burn to optical disc
Create files to ISO image
Read ISO image from optical disc and write to NAS
Mac OS X Time Machine
Supported
Data Guard
Remote Backup/Local Backup
Block Level Access
iSCSI Target/Initiator
Supports Microsoft/Mac OS X/Linux initiators and Thecus NAS targets
iSCSI Thin Provisioning
Supported
iSCSI VAAI
Supported
MPIO
Supported
MCS
Supported
Clustering
Supported
SCSI3 Persistent Group Reservation
Supported
Power Management
Scheduled Power On/Off
Supported
Volume Management
Multiple File System Selectable
EXT3/EXT4/XFS/Btrfs
Multimedia Support
iTunes Server
Supports AAC, MP3 w/ID3 tag and WAV
Piczza!™ Photo Server (via module)
Supports GIF, JPG (JPEG), BMP and PNG
Supports EXIF display
Supports slide shows
Media Server
Supports uPnP AV streaming protocol
User Authentication
Local User
Supports built-in user accounts
Local Group
Supports built-in user groups
Windows ADS
Supported
LDAP
Supported
Access Guard
Supports Black & White list/IP Filter
Cloud Backup
DropBox
Supported (via module)
ElephantDriver
Supported (via module)
Amazon S3
Supported
File System
Type
Journaling File System
Language Support
Unicode Support
Authorization (ACL)
"Read", "write", or "deny" privileges to individual users or groups in folders and sub-folders
User Quota
Supported
Snapshot
Supported
Administration
User Interface
Web-based user interface supports English, Traditional Chinese, Simplified Chinese, Japanese, Korean, French, German, Italian, Spanish, Russian, Polish, Portuguese, Turkish and Czech.
Utility Program
MS Windows Setup Wizard
Supports Windows 8/7/Vista/2003/XP/2000
Mac OS X Setup Wizard
Email Notifications
Sends system messages via email to the system administrator
SNMP Trap
System information trap out
Mobile Applications (iOS/Android)
T- Dashboard
Mobile monitoring and administration (via module)
T-OnTheGo™
Upload, download and stream multimedia
Data Security
Virus Scan
Supports Virus Scan (via module)
Capacity Expansion
Stackable
Can extend for 5 additional iSCSI volumes from other Thecus NAS
Others
Recycle Bin
Supported
Web Disk
Supported (via module)
Web Server
Supported (via module)
ISO Mount
Supported
IP Cam Surveillance
Supports up to 5 IP cameras (via module)
Auto Module Installation
Thecus' module server automatically provides the latest modules and updates through the user interface.
Local Display
X-Window via HDMI output
Package Contents
Accessory Bag
Ethernet Cable
Power Cord
Power Adaptor Cable Tie
Power Adaptor
Acronis True Image DVD
Universal CD
QIG
Warranty Card
HDD Compatibility List Card